Who Froze Farrell Flint?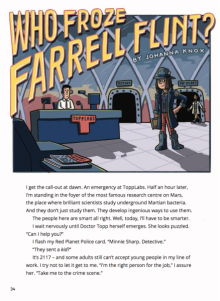 by Johanna Knox
illustrated by Toby Morris
Minnie Sharp, detective, is the narrator of this science-fiction story. The setting is a futuristic research centre on Mars. Minnie has a mystery to solve following the discovery of a frozen scientist in the Cryogenic Storage Room. As she interviews the other scientists working in the laboratory, Minnie is gradually able to build a picture of what might have happened.