S.O.S.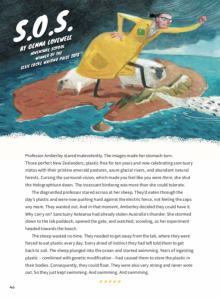 by Gemma Lovewell
illustrated by Daron Parton
Winner of the 2018 Elsie Locke Writing Prize
"Cursing the surround-vision, which made you feel like you were there, she shut the Holographison down. The incessant birdsong was more than she could tolerate. The disgruntled professor stared across at her sheep. They'd eaten through the day's plastic and were now pushing hard against the electric fence, not feeling the zaps any more."