Why Do Our Muscles Get Tired?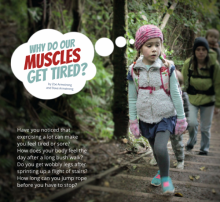 by Zoe Armstrong & Dave Armstrong
Have you noticed that exercising a lot can make you feel tired or sore? Sometimes when we exercise very hard, our muscles use oxygen faster than our body can supply it. This is called muscle fatigue. Moana and Oscar carry out a simple investigation to discover more about muscle fatigue.