Instructional Series
Welcome to the English medium literacy instructional series teaching and learning resources for years 1 to 8.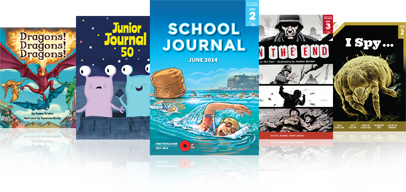 Gold
Green
Purple
Blue
Turquoise
English
Social Sciences
Science
Health and Physical Education
Technology
The Arts
Mathematics and Statistics
Nature of science
Living world
Planet Earth and beyond
Material world
Nature of technology
Physical world
Geometry and Measurement
Statistics
Technological knowledge
Use evidence
Engage with science
Critique evidence
Gather and interpret data
Stories
Articles
Poems
Plays
/content/search?SearchText=climate change&SubTreeArray[]=22574&ColourWheelLevel=all&CurriculumLevel=all&ReadingYearLevel=all&LearningArea=all
Search results
149 items - Showing 51 - 60
The World Will End, Said the Cat

by David Larsen

This is a fantasy story with a serious flavour. The indirect unfolding of the story allows students to make their own way through the text, piecing information together as they go.

By the River

by Sarah Penwarden

"School camp. Kenzie's seen the photos from last year. It looks nice: little cabins clustered around a central dining hall; grassy paddocks with giant macrocarpas; picnic tables and a fire pit; a green river, deep and shady, with a slide and a swimming hole."

Lost Treasure

by Anahera Gildea

"I've got this cousin Hoani. He always causes me big trouble. One time, I stayed over at his house and woke up paralysed. During the night, he'd plastic-wrapped me to the stretcher."

Turbulence

by Paul Mason

"That week, an email from Cooper's dad arrived out of nowhere. It had two attachments: a photo and a plane ticket to Australia. Cooper's mum wasn't so keen." 

Fleet of Foot

by Paula Morris; illustrations by Andrew Burdan

The movement of Māori to the cities in the 1950s and 1960s was one of the most significant movements of people in our recent history. Paula Morris has used stories from her whānau as a basis for "Fleet of Foot", a work of fiction that sits alongside "Kei Te Tāone Nui", an article in the same journal that also explores the topic of Māori urbanisation. The text has links to the Aotearoa New Zealand's histories curriculum.

Your browser does not support the audio element.

Making Money

by Tricia Glensor

This report is about New Zealand money, explaining where our money comes from and how and why the notes and coins have changed over time. It also describes the security features on the banknotes.

Gold 1

Your browser does not support the audio element.

Hidden Talent

by Maria Samuela 

Annie is feeling envious of her siblings – they each have a special talent. (Kana is artistic, Juanita can sing, and rugby-playing Jackson has been made props manager for the upcoming talent quest.) The family says their talents must be inherited from their ancestors. Annie doesn't think she has any special talents. However, on the night of the talent quest, disaster looms when the power supply goes out.

Dodinga, 1858

by Paul Mason

illustrations by Gavin Mouldey

A historical narrative that is a companion story to the related article "Journeys of Discovery: The Life of Alfred Wallace" – this story provides some detail about the experiences the famous amateur naturalist Alfred Wallace had while travelling in far-flung places of the globe, hoping to crack the mysteries of evolution. Dodinga is the Indonesian village where Wallace was staying when he had his famous breakthrough in 1858. An author's note describes the story's links to actual events.

Leaves

by Lily Ng

This poem explores the relationship between the poet and her grandmother who was a refugee from China following the Cultural Revolution.