Instructional Series
Welcome to the English medium literacy instructional series teaching and learning resources for years 1 to 8.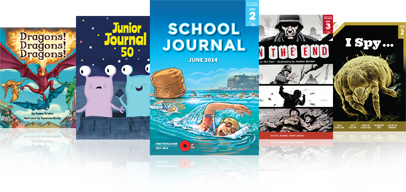 English
Social Sciences
Science
Health and Physical Education
Technology
The Arts
Articles
Stories
Poems
Plays
/content/search?SearchText=&SubTreeArray[]=22578&CurriculumLevel=all&ReadingYearLevel=6&LearningArea=all&Type=all
Search results
93 items - Showing 41 - 50
Puawai Cairns: Te Papa Detective

by Whiti Hereaka

This article describes the work of Puawai Cairns, a curator at Te Papa Tongarewa. Puawai believes that as a curator, her job is to tell stories about people: "Each one always begins with a taonga."

Cancel the Invasion

by David Larsen

"Cancel the Invasion" is a funny and original fantasy story. Ash is an alien who has been sent to Earth as an advance scout for a planned invasion. He meets some young humans, and we follow his internal musings as he struggles to understand the complexities of their (English) language.

Atutahi's Unicorn

by Hinemoana Baker

"Mum, you need to come!" I shouted. "I think Sparkles is bunged up again." I took a cautious step towards the unicorn. She turned her head towards me, eyes crossed from the strain, horn bobbing. It was the third time this week.

New Boots

by Tim Jones

illustrated by Andrew Burdan

"Charlie's own pack was fine, but he was hungry, and his new boots pinched. Plus his mates were way ahead, having a great time – and here he was stuck at the back with Mr Ngaia and the new kid."

Thumbprints

by Serie Barford

illustrated by Sheyne Tuffery

"Mum left Sāmoa in 1952. To'ono drove her to the harbour in a jeep abandoned by American marines."

Who Froze Farrell Flint?

by Johanna Knox

illustrated by Toby Morris

Minnie Sharp, detective, is the narrator of this science-fiction story. The setting is a futuristic research centre on Mars. Minnie has a mystery to solve following the discovery of a frozen scientist in the Cryogenic Storage Room. As she interviews the other scientists working in the laboratory, Minnie is gradually able to build a picture of what might have happened. 

The Subantarctic Islands

written and illustrated by Giselle Clarkson

This visual text uses words and cartoon-style images to provide information about the five groups of islands that are found between New Zealand and Antarctica. The information is presented in a lively way, organised into sections that tell what and where the islands are, the weather they share, and their flora and fauna. 

Information and tips for using comics in the classroom:

The Possum Problem

by Johanna Knox

illustrated by Adele Jackson

"Possums. You hardly ever see them, but they're all around: in the bush, on farms, in parks. They might even be in your garden. During the day, possums stay in their dens. These are dry, hidden places where they won't be disturbed. Possums emerge after dark, millions upon millions of them, all across New Zealand. And what do they do? They eat."

Low Tide

by Tim Jones

illustrated by Elliemay Logan

This short story describes what happens during the hour that Manu and his father have to rescue what they can from their ruined home. A storm accompanied by a high tide has breached a seawall and sent seawater through their house.