Instructional Series
Welcome to the English medium literacy instructional series teaching and learning resources for years 1 to 8.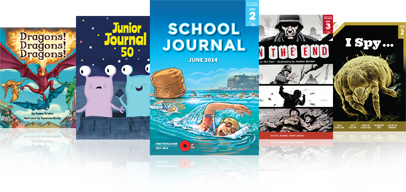 Gold
Green
Purple
Blue
Turquoise
English
Social Sciences
Science
Health and Physical Education
Technology
The Arts
Mathematics and Statistics
Nature of science
Living world
Planet Earth and beyond
Material world
Nature of technology
Physical world
Geometry and Measurement
Statistics
Technological knowledge
Use evidence
Engage with science
Critique evidence
Gather and interpret data
Stories
Articles
Poems
Plays
/content/search?SearchText=climate change&SubTreeArray[]=22574&ColourWheelLevel=all&CurriculumLevel=all&ReadingYearLevel=all&LearningArea=all
Search results
144 items - Showing 31 - 40
Waiting

by Nadine Anne Hura, illustrations by Zoe Hannay

This is a gentle story with a twist, which is revealed in the final illustration. While most School Journal stories are set over a few hours or days, this piece has an unusually long timeframe: nine months. During this time, Bella learns a more positive way to count the days – by noticing the seasons change and trusting that something is happening, even though it may appear otherwise.

Please Don't Tap the Glass

by Rose Lu; illustrations by Ant Sang

Author Rose Lu moved from Auckland to a much smaller place when she was twelve. Fitting in wasn't easy, especially given that her new home contained very few Chinese New Zealanders. Suddenly Rose was different from everyone else – an experience she uses to inform her first piece of fiction for the School Journal.

News for You

by Bernard Beckett, illustrations by Giselle Clarkson

This story has a mission: to shed light on the concept of algorithms, in particular the ways in which they influence our access to news. Bernard Beckett takes the Covid-19 lockdown as his starting point, using this shared experience to provide humour and appeal. This relevant context also allows students to explore the idea that people have different interests and perspectives and that news on social media has been curated for the user and may not represent all aspects of current events.

The Way to Play

by Bernard Beckett, illustrations by Scott Pearson

When Room 6 wins the competition to design the school's new playground, they are really excited. However, when it comes to deciding on the design, differences of opinion emerge and the students have to work through the conflict to come up with a design that will suit them all. This story provides an opportunity to introduce and discuss the acceptance and celebration of difference.

Ghost Walk

by Renata Hopkins, illustrations by Rosie Colligan

Grumpa wants to take a walk, but the narrator has other ideas. Grumpa wins, and the pair tour Christchurch's Red Zone, where the narrator learns to see what's no longer there – and ways we can preserve the past.

The Weird Zone

by Sacha Cotter

illustrations by Kirsten Slade

"We've been tracking Dad's weirdness for months."

In Colour

by Thomasin Sleigh; illustrations by Elspeth Alix Batt

"Grace had a sudden, terrible thought. What if Grandma didn't get better?"

How to be Normal

by Annaleese Jochems

illustrated by Adele Jackson

"Charley's at the old playground, sitting on the bottom of the slide and concentrating. When the bell rings, she'll walk back to class – but first, she'll wait till at least half the other kids have done the same. She's improving herself. This week, she's fixing her habit of being back at her desk too soon. It's unnecessary, and it singles her out."