Instructional Series
Welcome to the English medium literacy instructional series teaching and learning resources for years 1 to 8.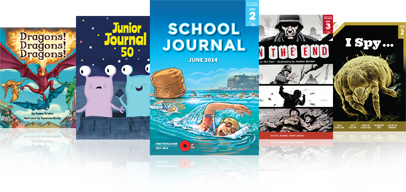 Gold
Purple
Blue
Red
Green
Yellow
Orange
Turquoise
Magenta
English
Social Sciences
Science
Health and Physical Education
Technology
The Arts
Mathematics and Statistics
Nature of science
Living world
Nature of technology
Statistics
Geometry and Measurement
Planet Earth and beyond
Physical world
Technological knowledge
Number and Algebra
Material world
Technological practice
Gather and interpret data
Use evidence
Critique evidence
Engage with science
Interpret representations
Articles
Stories
Poems
Plays
/content/search?SearchText=&SubTreeArray[]=22574
Search results
994 items - Showing 141 - 150
Your browser does not support the audio element.

I Spy

by Simon Cooke

illustrations by Vasanti Unka

This humorous science fiction story is about two creatures, Pebble and Stone, who live on the planet Rock 2. One day, a spacecraft visits and leaves an unusual object behind. As the story progresses, Pebble and Stone notice the object changing and invent new words to describe what they are seeing. The story ends with a delicious surprise for the characters.

Gold 1

Your browser does not support the audio element.

Helpful

by Feana Tu'akoi 

illustrations by Fraser Williamson

Grandad wants Vika and Kele to help him in the garden, but they don't share his enthusiasm. Vika manages to come up with an excuse, leaving Kele with all the work, but then the tables are turned and Vika becomes the one who has to help Grandad. The humour in this story arises from the contrast between Vika's attempts to get out of helping, Dad's determination to make sure she does her fair share, and Grandad's lack of awareness that anything is going on. These characters also appear in "Kele's Car" (Gold 2) in JJ 49.

Gold 1

Your browser does not support the audio element.

Kākano

by Kelly Joseph

illustrations by Damian Stones

This poem describes a kākano (a seed) as taonga and explains what makes it special. "Kākano" is inspired by the Māori proverb: Ahakoa he iti, he pounamu – although small, it is precious. The poem includes te reo Māori words and phrases that are supported by context, illustrations, sentence structure, and a glossary. This poem provides opportunities for students who are familiar with te reo Māori to share their knowledge.

Gold 2

Your browser does not support the audio element.

Making a Road

by Andrew Gunn

"Making a Road" describes the process of constructing a road, from the planning through to sealing and road marking. This information text is well supported by clear subheadings and other visual language features such as labelled photographs and diagrams.

Gold 2

Cool Facts about a Hot Place

by David Hill

illustrations by Scott Pearson

This article presents a lot of facts about the sun and information about how the sun affects Earth. Although some of the concepts may be challenging, the writer uses humour and comparisons with familiar things to help readers get a sense of the enormous numbers involved. 

Why Do Our Muscles Get Tired?

by Zoe Armstrong & Dave Armstrong

Have you noticed that exercising a lot can make you feel tired or sore? Sometimes when we exercise very hard, our muscles use oxygen faster than our body can supply it. This is called muscle fatigue. Moana and Oscar carry out a simple investigation to discover more about muscle fatigue.

Operation Duck Pond

by Andrew Gunn

Nathan Burkepile is a scientist who wants to know what kind of pond ducks like best. Volunteers (citizen scientists) from around the country collect data for Nathan to analyse. Nathan works with the citizen scientists to make sure that the data they collect is reliable.