Tūranganui-a-Rua, Tūranganui-a-Maru, Tūranganui-a-Kiwa e!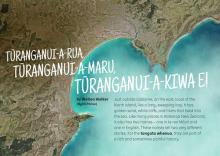 by Walton Walker (Ngāti Porou)
In 2019, Poverty Bay, just outside Gisborne on the east coast of the North Island, officially changed its name to Tūranganui-a-Kiwa/Poverty Bay. The change was significant for local iwi, who had long campaigned to return the original name to honour Kiwa, one of the original Polynesian navigators to discover the area, and to better reflect the communities living there. This article explores the rich history behind the names of the area through arrival stories and the recent decision to use a dual name.