Instructional Series
Welcome to the English medium literacy instructional series teaching and learning resources for years 1 to 8.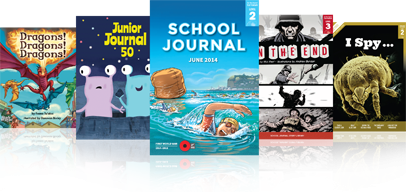 Gold
Purple
Red
Yellow
Blue
Green
Orange
Turquoise
Magenta
English
Social Sciences
Science
Health and Physical Education
Technology
Mathematics and Statistics
The Arts
Nature of science
Living world
Nature of technology
Planet Earth and beyond
Statistics
Geometry and Measurement
Physical world
Material world
Number and Algebra
Technological knowledge
Technological practice
Gather and interpret data
Use evidence
Critique evidence
Engage with science
Interpret representations
Articles
Stories
Poems
Plays
/content/search?SearchText=&SubTreeArray[]=22574
Search results
751 items - Showing 631 - 640
Score!

by Bronwen Wall

"Tiana tucks the ball under her arm and races up the field. It's three tackles down – there's only one more play left in this set. The other team is waiting for her."

The Best Team Ever

by Philippa Werry

illustrated by Fraser Williamson

This play follows 6 students grouped together to make a wearable arts costume. The students are forced to improvise after their original idea doesn't go as planned.

A Gust of Wind

by Sarah Penwarden

illustrated by Rachel Walker and Adam Pryor

In this four-stanza, illustrated poem, Sarah Penwarden uses rich imagery to describe the four seasons. The first-person narrator is a child, and the poem also reflects his or her relationship with grandparents. 

Your browser does not support the audio element.

Up the Guts

by Paora Tibble

illustrated by Munro Te Whata

This fast-paced story follows Para (the narrator) and her older brother, Shane, as they practise their rugby league skills in their backyard, then play a game of league with the rest of their team.

Your browser does not support the audio element.

Jack and the Beanstalk

retold by Kylie Parry

illustrated by Philip Webb

This retelling of a classic tale gives students the opportunity to explore features of fairy tales and provides a stepping stone to further reading.

Your browser does not support the audio element.

Joe's News

by Tricia Glensor

illustrated by Elspeth Alix Batt

When Troy's class find out that a Deaf boy, named Joe, will be coming to their school, they are worried they won't be able to talk to him. Their teacher arranges for the children to learn sign language.

Green 3

Your browser does not support the audio element.

The Little Red Hen

retold by Kylie Parry

illustrated by Giselle Clarkson

Engaging features in this story include the humour, the fantasy context (the animals behaving like humans), strong characterisation, a series of repeated events, literary language, and a clear underlying message.

Green 1

Your browser does not support the audio element.

Watching the Game

by Emeli Sione

illustrated by Jenny Cooper

When Mika and Mum go to watch Tusi and Pati play touch rugby, they take Rocky the dog with them. Rocky enjoys playing with the tennis ball – but then he suddenly catches sight of the rugby ball on the field! This is the third story about Mika's family.

Blue 2

Your browser does not support the audio element.

Wheels

by Bronwen Wall

This non-fiction text makes connections to students' everyday experiences of using wheels. It also explores the history of wheels, how wheels work, and some different sorts of wheels, providing many "stepping-off points" for further reading and investigation.